The weather is cooler and rainier this week in Portland, so I turned to more spiritual cocktails. Stirred & boozy is often my favorite cocktail style in fall and winter, mainly because the idea of ​​drinking an iced cocktail isn't appealing when I'm wearing as many layers as possible to keep my butt from freezing to the bottom. outside.
There are a few classic cocktails that come to mind when I think of whiskey brewed drinks. The Sazerac and the Manhattan are the ones I immediately think of. Chances are you've had a Manhattan before you experience the joys of Sazerac. Manhattan is a great drink that unfortunately can easily go astray with the wrong combination of whiskey and sweet ermouth, or just as easily with the wrong whiskey / vermouth ratio.
This cocktail is a variation of the Up to Date cocktail from Hugo Ennslin's book, Recipes for mixed drinks, which itself appears to be a variant of the Manhattan. Ennslin's recipe calls for equal parts rye and sherry, and a few dashes of Grand Marnier and Angostura Bitters. Sounds pretty delicious, right?
I like the Grand Marnier, but it's quite sweet and I tend not to use it in a cocktail unless I really want to add a fuller, fuller mouth feel. This round, sweetness tends to be the reason some people opt for Margaritas instead of Standard Cointreau or Triple Sec. It just softens those really high and sour notes. Which can be a good thing sometimes, but for this drink I wanted to keep things lighter.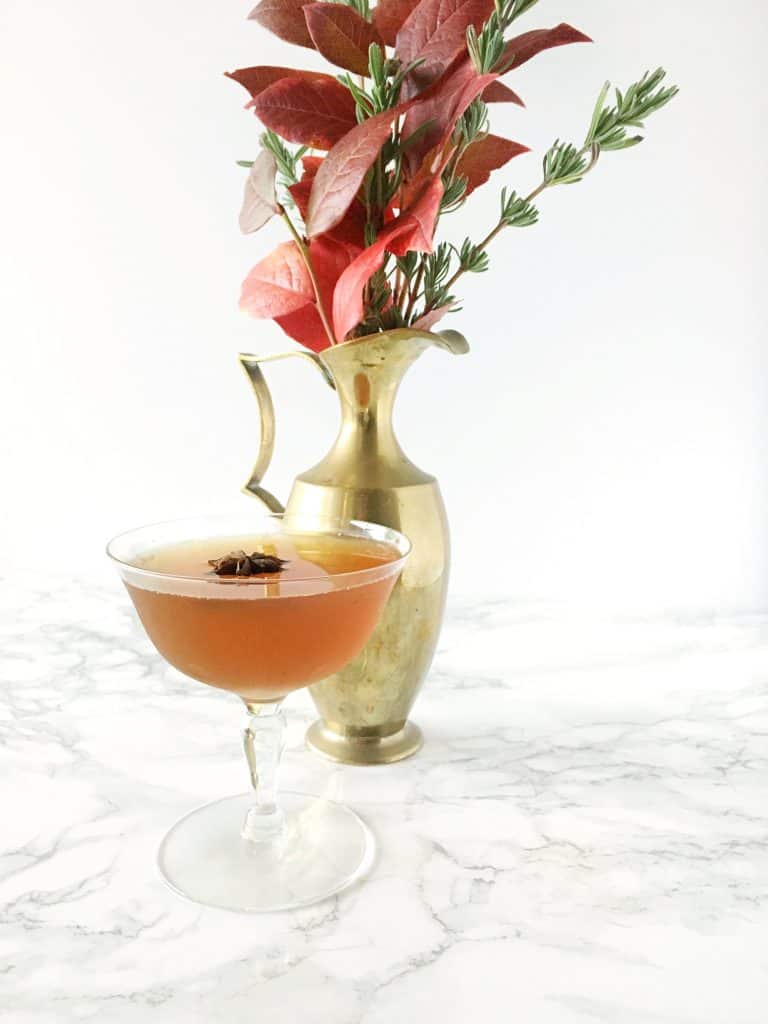 Instead of Grand Marnier, I replaced Cointreau as the orange liqueur of choice. Cointreau is a bit drier and gives a crisp, crisp orange flavor to a drink. Not wanting to sacrifice the mouthfeel, I opted for an oloroso sherry to keep a little roundness, but I reduced the ratio slightly. I also used vanilla infused bourbon for my base alcohol in place of the rye. The vanilla added an extra layer of complexity and was a nice compliment to the orange flavors. I doubled the orange using orange bitters instead of Angostura. The finished product needed a little extra something, so I topped it with star anise, and it seemed to tie all the components together.
Read more news on whiskey
Death and destruction: the risks of whiskey making
I think it's a really nice drink that is easy to prepare at home. Let me know what you think if you decide to DIY. Cheers!
An American, a Spaniard and a French walk into a bar
1 1/2 ounce Vanilla Bourbon *
1 ounce Sherry Oloroso
1/2 ounce Cointreau
5-6 drops Regan's Orange Bitters
Star anise for garnish
Instructions: Pour all the ingredients into a mixing glass, add ice and stir for 30 seconds. Filter in a cool shot and garnish with a piece of star anise.
* Bourbon infused with vanilla (aka vanilla extract)
1/2 cup Bourbon
2 Mexican vanilla pods
Instructions: Using a knife, split the beans down the middle to expose the seeds inside. Cut the beans in half along the equator and add them to a mason jar. Pour the bourbon over it and close the jar. Let sit for 6 weeks, shaking every few days. Side note: The longer you leave the beans in the mixture, the more flavor will develop. Grains that have been left for a year or more are the best brew. I use this stuff in my coffee and in baked goods. This is delicious! If you want a purer vanilla taste for baking or making desserts, just use vodka instead of bourbon.
For more recipes like this, check out fern + shaker and follow @fernandshaker on Instagram.