It's a damn hard job to create the perfect whiskey bar. One could say that they are not, in fact, made but rather that they evolve overtime. From the hippest dive bars to one-stop bottle shops and bars to upscale pre-Prohibition-inspired gastropubs, here are the 10 best whiskey bars in the United States.
Jack Rose Dining Room
washington d.c.
It's impossible to give an overview of the best whiskey bars in the United States without mentioning Jack Rose Dining Room. This DC-based institution earns a spot purely because of its nonsensical selection. Their philosophy seems to be based on old maroon Mark Twain, "Too much of anything is bad, but too much good whiskey is barely enough." As of June 2019, their homepage proudly features 2,687 bottles of whiskey. The mind wonders how they keep track of enough bottles to fill a swimming pool. Add to that a beautiful wooden dining room with pressed tin ceilings and a dedicated cigar menu, and it's a destination-worthy tasting bar.
Why go? Because you probably can't name a whiskey they don't have in stock.
cannon
Seattle, Washington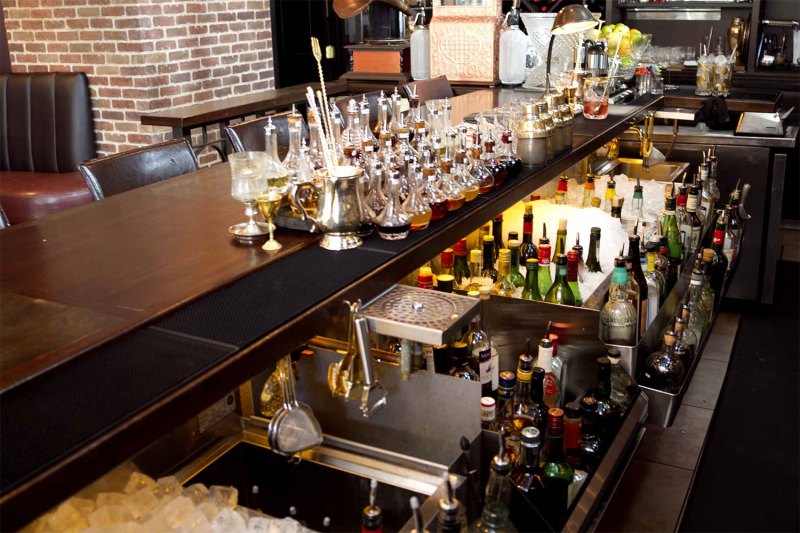 cannon isn't the biggest, fanciest, or over-the-top cocktail bar on this list, and it doesn't try to be. This purist stalwart of Seattle's cocktail scene does better than almost any other bar in the country. First, they take their cocktails very seriously, and their 94-page spirits list with over 4,000 labels is testament to that. Second, they claim the most extensive selection of American whiskey on the continent, and we're inclined to believe them. Finally, it is impossible not to love the atmosphere. It's upscale, but not pretentious; the decor is dark and industrial like a good dive bar should be, and every piece of wood has been hand stained with Angostura bitters because why the hell not?
Why go? Because nine – new! — entire pages of their spirits menu are entirely devoted to rare whiskies.
Highlands
New York, New York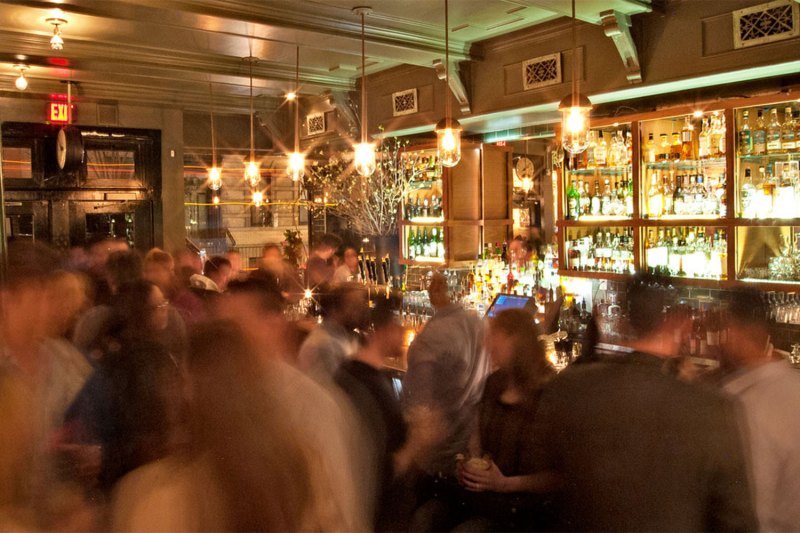 From the outside, the understated sophistication of Highlands belies one of New York's greatest whiskeys – uh – whiskey bars. Even in the city's iconic West Village, this is one bar that stands out. Most notable is its inventory of over 250 bottles of Scotch. Here it is not only about quantity, but about quality. The staff appreciate a good dram – a fact reflected in the meticulously curated menu which includes some of the best browns ever to come out of Scotland.
Why go? The breadth of pub food here – including everything from duck leg confit to haggis – is fleshed out enough to make this a restaurant worthy of a destination in its own right.
Proof on Hand
Louisville, Kentucky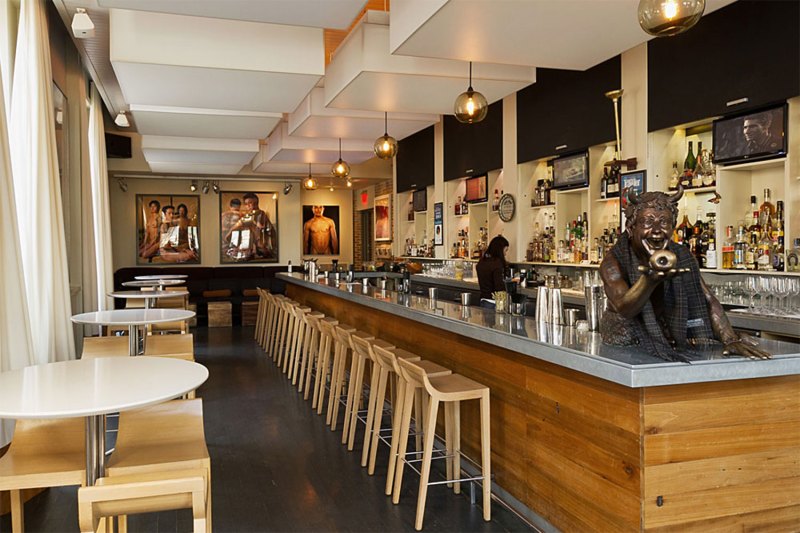 Located in the Hotel Museum 21c in downtown Louisville, there's almost no better place to have a glass of bourbon than Proof on Hand. Not only is the restaurant and bar down the street from Michter's Fort Nelson Distillery, Old Forester, Peerless Kentucky, and more, but the bar itself has over 120 different bourbons. The number is big, but the selection of these bourbons is even better. Some of the cask selections and specialty bottles on Proof's shelves are only available from Proof. Once you've worked through a glass or two of the good stuff, next you'll want to move on to seasonal cocktails, which are as creative as they are delicious. (Then, when you've got a few in you, take a stroll through 21c and admire the artwork.)
Why go? This is Louisville, Kentucky. Why would not would you like to visit a whiskey bar in the heart of bourbon country? Do you really need more reasons?
Multnomah Whiskey Library
Portland, OR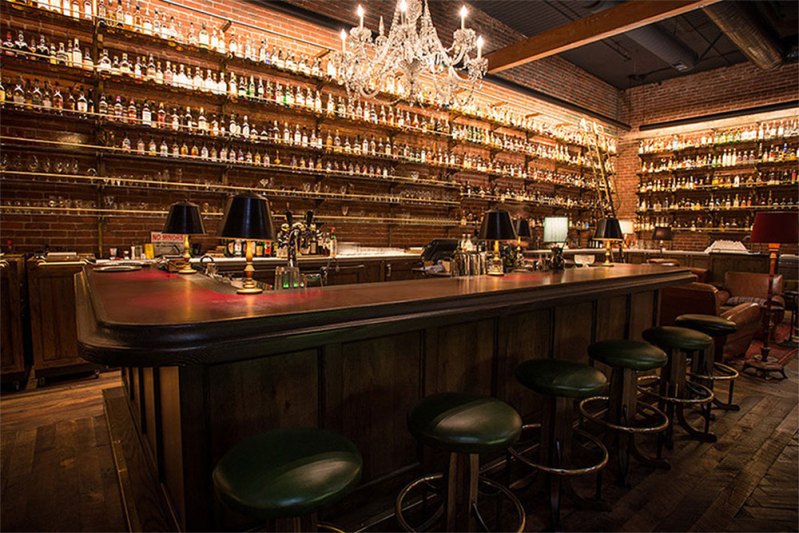 The fact that it's called a "library" should give an indication of how seriously the people of Portland Multnomah Whiskey Library takes its whiskey. In numbers, it has an impressive cellar of around 1,800 spirits, but the biggest one is that 1,200 of them are whisky. Be warned that this is no ordinary Friday night pre-game watering hole. You'll almost certainly need reservations or know someone inside. It's the kind of place to impress on a first date or seal the deal on your next round of venture capital.
Why go? Tufted leather sofas, vintage chandeliers, rich wood and exposed brick throughout – the perfect library and cigar lounge atmosphere make this one of the classiest whiskey bars in the country.
Gamlin Whiskey House
St. Louis, Missouri
Where many whiskey bars rely too much on the size of their bottle cellar, Gamlin Whiskey House strikes a balance between an incredible whiskey bar and an incredible chophouse. Their brown selection is backed by a solid 300 bottles, including basics like Knob Creek and sought-after icons like Father. Plus, you can pair each serving with a choice cut of the finest beef in the Midwest.
Why go? If you're new to whiskey, the on-site sommelier can help you find something to your liking and hone your tasting skills.
Bar Jackalope
Los Angeles, California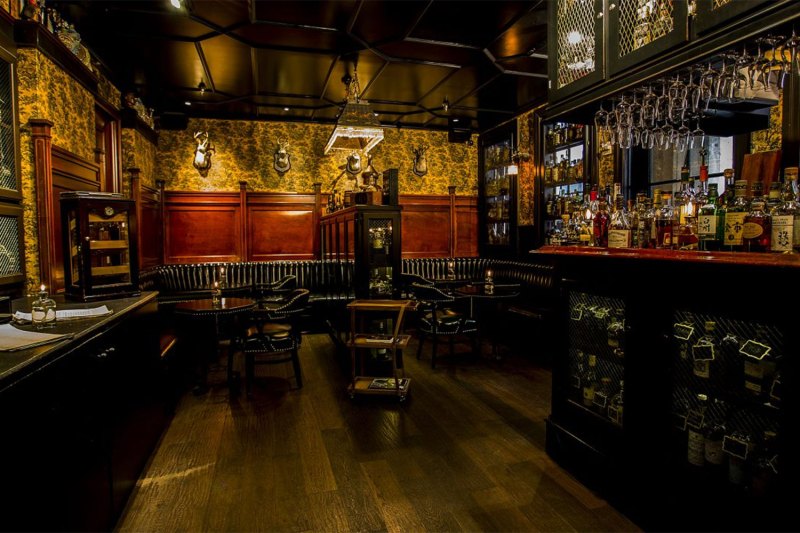 Bar Jackalope plays on the unique retro-cool speakeasy vibe with a "secret" entrance and password required for admission. It might seem a bit played, especially in downtown LA. But this "sipping library" inside the city's popular Seven Grand bar definitely stands out. When designing the space and experience, owner Cedd Moses drew heavy inspiration from Japan's high-end whiskey bars. The result is a dark, comfortable and exclusive space. The interior only seats 12 with room for an additional dozen on the patio and members get the first dibs.
Why go? For $250, members can reserve a bottle and space in the charming glass liquor cabinet behind the bar to store their private stash.
by Delilah
Chicago, Ill.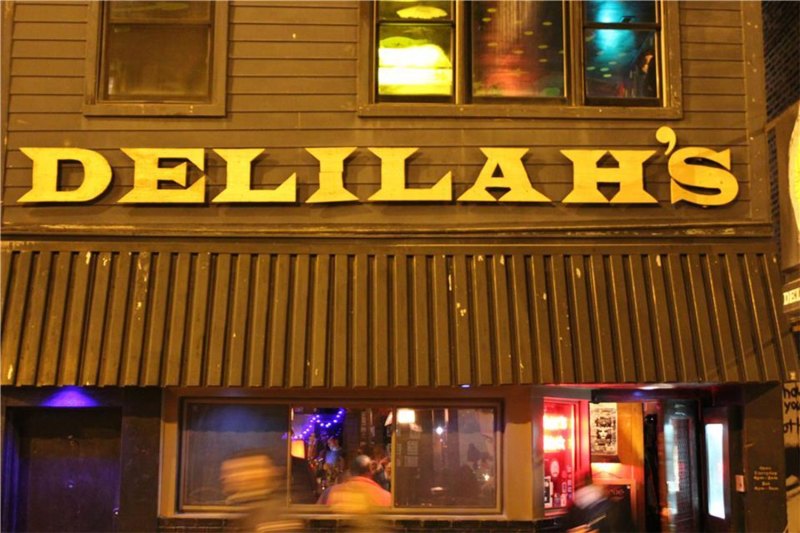 by Delilah is a Windy City institution that's just as popular with locals as anyone "from afar". This is the most dipped dive bar on this list, and we say that with affection. Most patrons just show up for a beer, a few games of pool, and break it down to whatever local live DJ showed up to spin that night. Others know it's a destination-worthy whiskey bar with an extensive and well-curated selection of over 800 bottles from more than a dozen countries. The Scottish menu, in particular, represents 70 distilleries, including all available styles and regions of the motherland.
Why go? Locals flock to Delilah's highly anticipated private barrel releases of Scotch, rye and bourbon available only at the bar.
Living room
Somerville, Mass.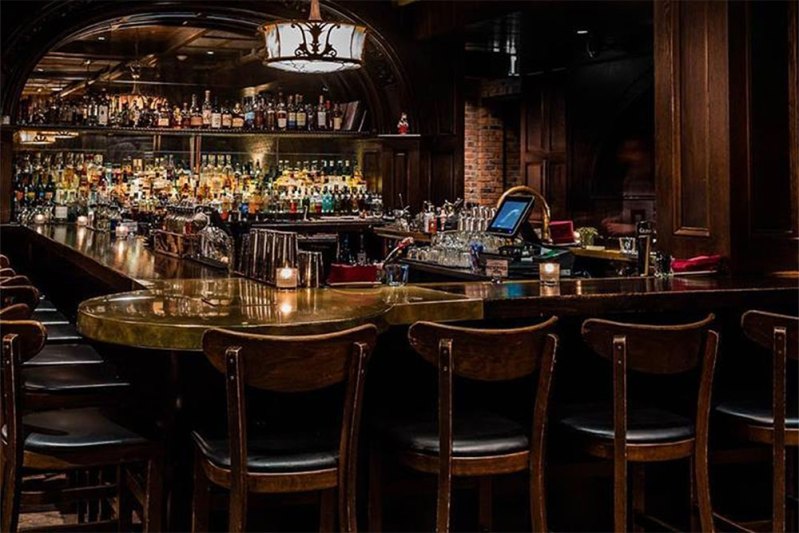 In our experience, most "pre-Prohibition inspired" bars seem designed by a focus group idea of ​​what a pre-Prohibition era bar should look like. Living room is a rare exception that resembles the real deal in every way. The watering hole in Somerville, Massachusetts reflects all aspects of its period atmosphere. Stepping through the dramatic entrance with its 17th-century cathedral doors, you'll discover a refined space comprised of exposed brick walls and hidden stairwells, as well as leather seating and fine woods throughout. The whiskey selection is relatively abbreviated to "just" 120 bottles, but with a sincere emphasis on quality over quantity.
Why go? The hearty and elevated pub fare makes this a solid choice not only for a decent drink, but also for a decent meal.
Village Whiskey
Philadelphia, Pennsylvania
Like Saloon, Village Whiskey takes its food as seriously as its whiskey selection. Philadelphia favorite boasts a whiskey card (PDF) which is over 200 bottles deep, including popular stalwarts alongside small batches and reserve favourites. Their all-day menu is equally impressive with heavy, hearty favorites like Buffalo Cheese Curds, Short Rib Duck Fat Fries, and Kentucky Hot Brown sammies (which, by the way, is the best sandwich ever).
Why go? Everything on the menu is out of this world good. But customers line up for hours for their Burger of the Month. (Please note: no reservations after 3:00 p.m. It is first come, first served.)
Editors' Recommendations